Techni-Tool's Knurled Head Swivel Screws securely hold parts with off-angle surfaces without marring or damaging the surfaces. For use where finger-tight clamping is adequate, wide, knurled head is easy to grip. Available with steel or nylon pads. Add "N" to part number for nylon swivel pad.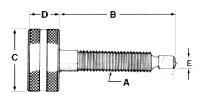 Knurled head swivel screws have these features:
1. The O.D. of the pad is smaller than the major pitch diameter, thus allowing the pad to pass through a threaded hole without disassembly.
2. Contact of pad with work piece stops pad rotation — torque is taken up by screw, thus permitting extreme tightening of work piece without marring its finish.
3. Finished base helps prevent marring of work piece.
4. Ball and socket construction assures perfect alignment.
5. Pad has clamping angle of 7 1/2 minimum in each direction – a total movement of 15°.
6. A fine knurled head helps the operator secure positive hold down pressure quickly.
7. Black oxide finish
KNURLED HEAD SWIVEL SCREW

Part No.
A
B
C
D
E


85-4
85-4B


1/4-20


1-1/2
2


7/8


5/16


.185


85-5A
85-5B
85-5C


5/16-18


1-1/2
2
2-1/2


7/8


5/16


.240


85-6A
85-6B
85-6C
85-6D


3/8-16


1-1/2
2
2-1/2
3


1


3/8


.293


85-8A
85-8B
85-8C
85-8D


1/2-13


1-1/2
2
2-1/2
3


1


3/8


.40